---
An interactive map showing spending on incarceration for every block in the City of Chicago.
More about this project
For this pro-bono project we partnered with two criminal justice experts: Dr. Daniel Cooper, the Co-Executive Director of the Institute of Social Exclusion at Adler University, and Dr. Ryan Lugalia-Hollon, a Texas-based writer and strategist.
The map is based on data obtained by the Chicago Justice Project from the Cook County Circuit Court. It represents all adult convictions between the years of 2005-2009. For each conviction, we have data for what the offense was, the length of the sentence, and the offender's residential address. From there, we calculate the cost to imprison each person based on their minimum sentence, and aggregate that by census block.
Browsing around the map you'll notice that the neighborhoods on the south and west sides are disproportionately affected by the criminal justice system, especially when it comes to drug-related crimes. $290 million is being spent on non-violent drug offenders in one west side neighborhood alone, Austin.
This project draws from work by the Spatial Information Design Lab and Justice Mapping Center, who have, since coining the term "million dollar blocks," helped re-frame the public debate around community justice in cities across the country. Seeing how effective this framing was, we decided to apply the concept to Chicago.
Chicago's Million Dollar Blocks was featured in The Best American Infographics 2016 by Gareth Cook.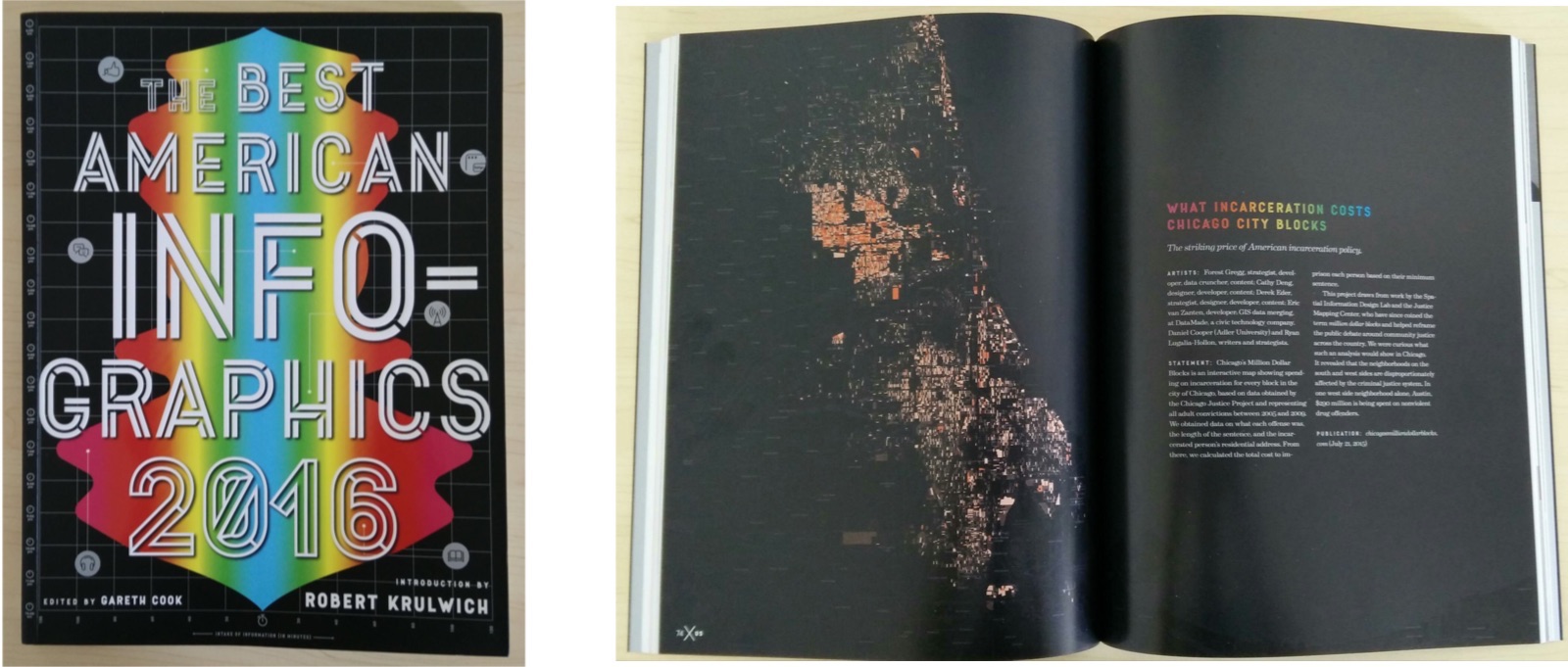 Press
How mass incarceration creates 'million dollar blocks' in poor neighborhoods
Emily Badger, The Washington Post - Wonkblog | July 30, 2015
Million dollar blocks and the cost of incarceration
FlowingData | July 27, 2015
Mapping Chicago's 'Million Dollar Blocks'
Laura Bliss, The Atlantic CityLab | July 24, 2015
Chicago crime map reveals the stark, costly racial disparities in city policing
Kasia Pilat, The Daily Dot | July 24, 2015
Chicago's Million Dollar Blocks at Chi Hack Night
Dan X. O'Neil, Smart Chicago Collaborative | July 24, 2015
Is criminal incarceration the best way to spend Chicago tax dollars?
Mike Flannery, Fox 32 News | July 23, 2015
How Much Money Does Chicago Spend Annually To Incarcerate Its Citizens?
Meg Miller, Fast Company | July 23, 2015
State Spent $2.4 Million Jailing Residents of Just One Austin Block
Alex Nitkin, DNAInfo Chicago | July 22, 2015
Here Are Chicago's Most Expensive Blocks—In Terms of Prison Sentences
Whet Moser, Chicago Magazine | July 21, 2015