Following the money in New Mexico politics just got a whole lot easier
Published on Oct 10, 2016
We're happy to announce the launch of The Openness Project with our partners New Mexico In Depth.
Based on campaign finance reports collected by the New Mexico Secretary of State, The Openness Project lets you search and browse all political contributions, expenditures, and candidates in statewide and local New Mexico races.
Here are some of the features of The Openness Project:
Search all for political committees, candidates, donations, and expenditures all in one place. Here's one for former US Secretary of Defense and New Mexico resident, Donald Rumsfeld!
For those who like to keep tabs on the fundraising race, we keep track of the candidates' committees that received the most money in the last month, year, and since 2010. It provides a great way to get a sense of the big players in New Mexico politics are.

Top earners in the last 90 days
$128 million in individual donations, loans, transfers, or in-kind donations have been given to political committees since 2010. You can browse them by date, or by any range of dates.
Browse all the players in New Mexico politics. You can also dive into their net funds over time, supported candidates, top donors, top expenses and all individual donations and expenditures.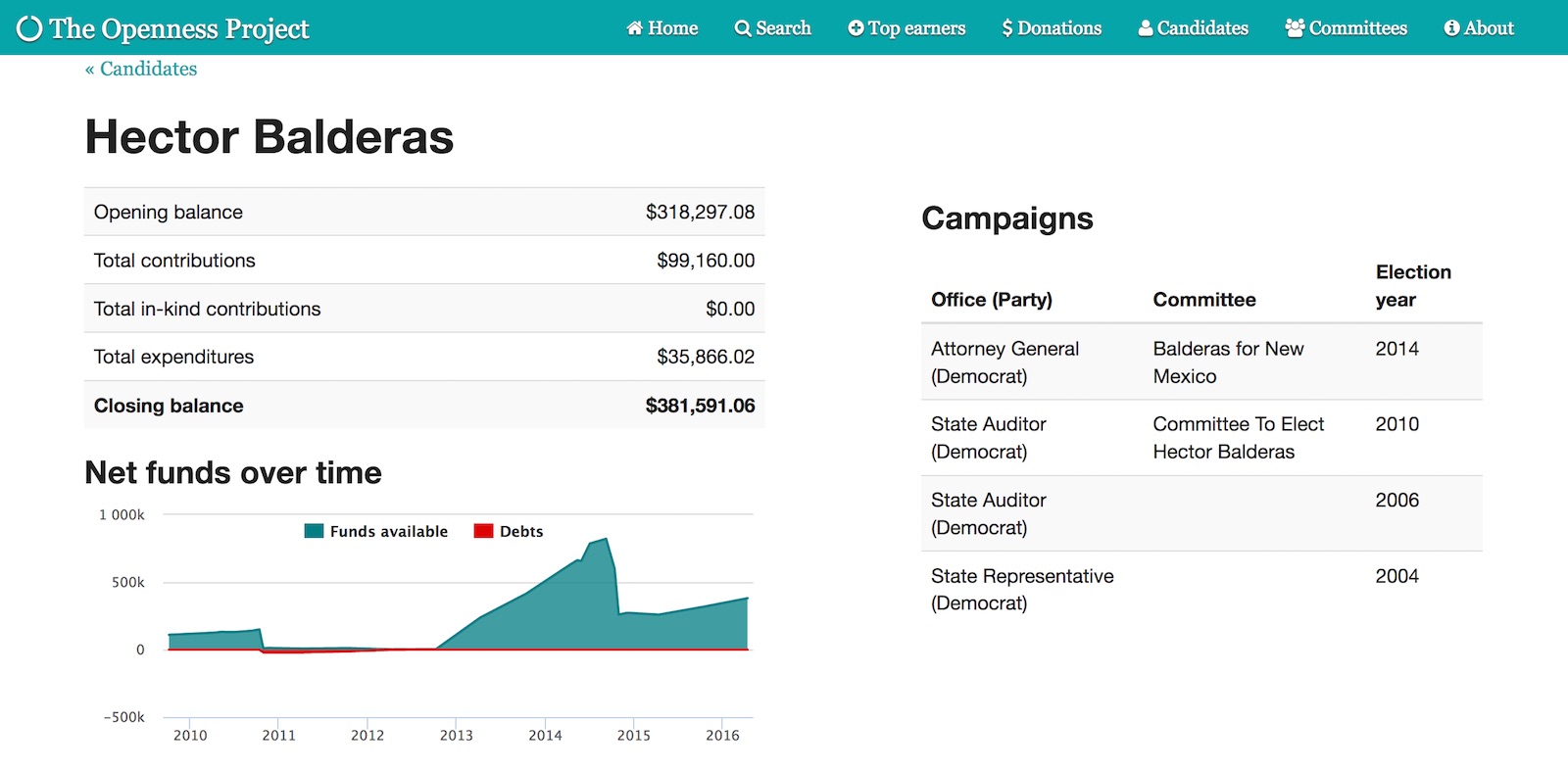 Candidate page for Hector Balderas, Attorney General for New Mexico
Are your readers interested in New Mexico politics? You can share The Openness Project widget on your website, showing the top earning candidates and PACs in the last 90 days.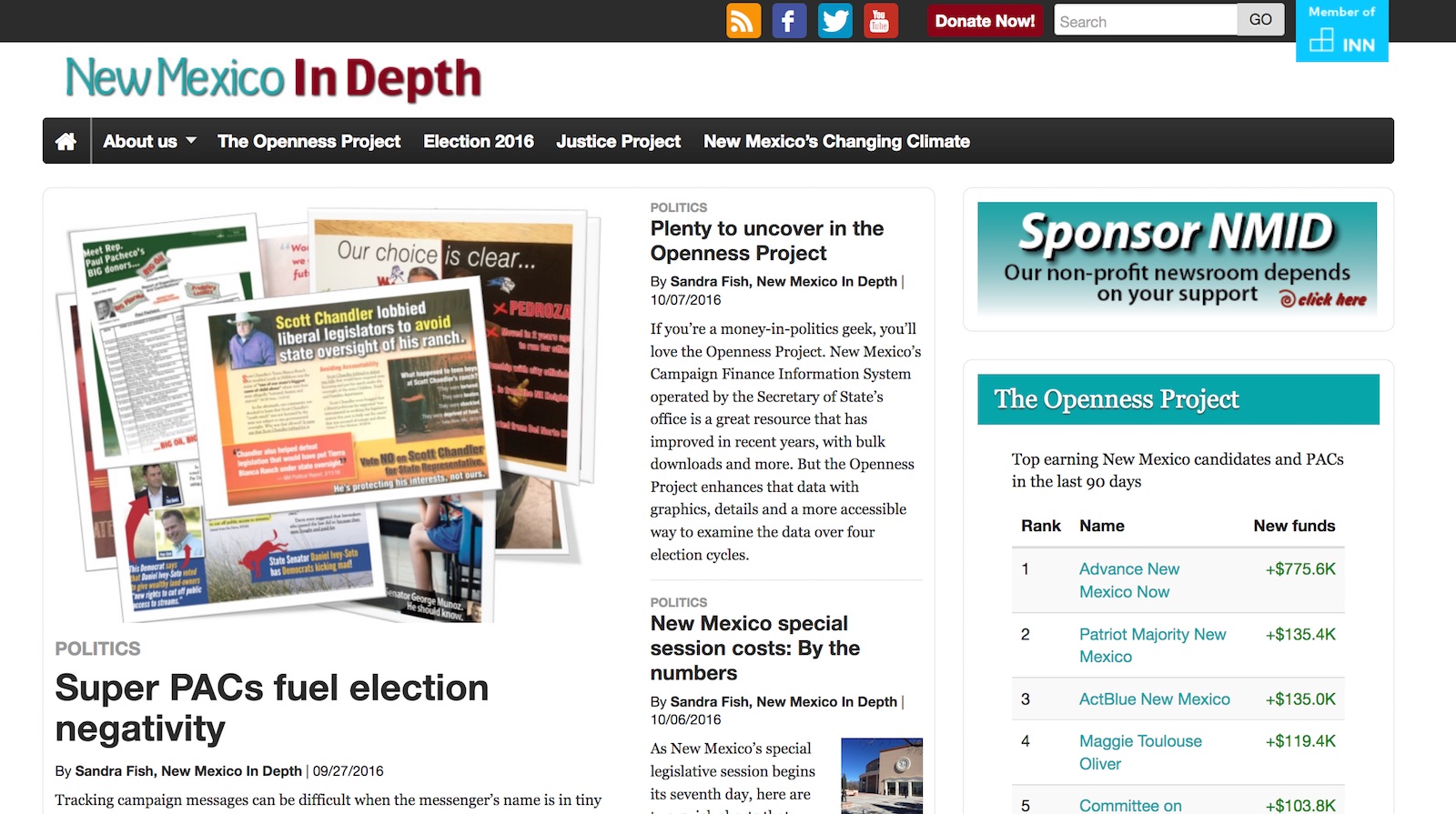 The Openness Project widget on nmindepth.com
Data downloads
For every search, candidate and committee, we allow you to download the data you're seeing as a spreadsheet. Plus, you can download every single candidate, PAC, donation and expenditure we have.
Getting the data
Before we could build a website for searching campaign finance information, we needed to get the data. For projects like this, we've found it often takes a combination of FOIA, phone calls, and relationship-building.
In New Mexico, campaign finance data is collected and maintained by the Secretary of State's office. Much of the data we needed was published online via the New Mexico Campaign Finance System, a platform built by Real Time Solutions.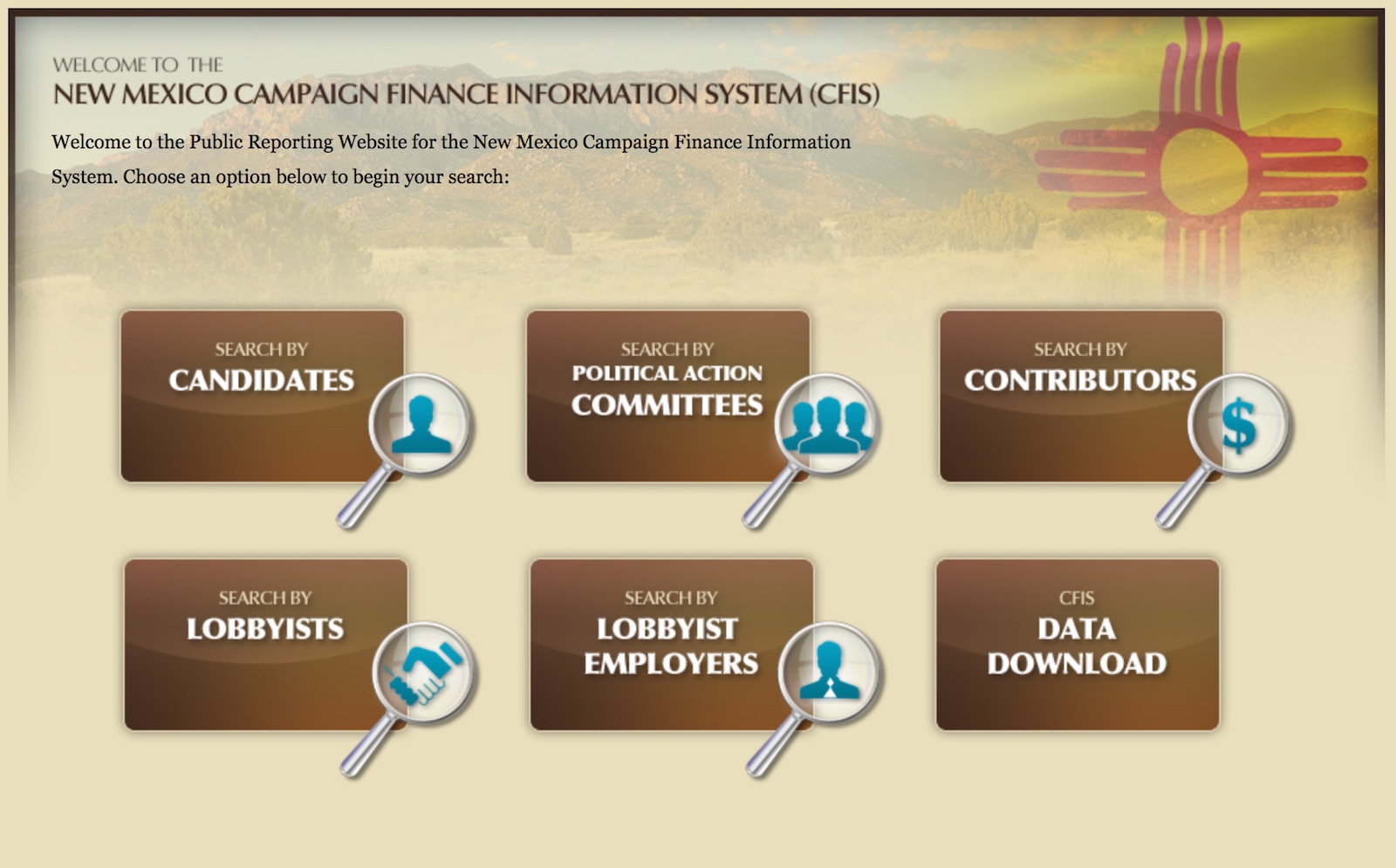 The New Mexico Campaign Finance Information System (CFIS)
But there were key pieces of information we still needed, including committee address and treasurers, loan history, and quarterly reports. What we needed amounted to a complete data export of their entire system, including all the tables and their relationships to one another. And we needed this data to be automatically updated as often as possible.
We had been down this road before. In 2015, we opened up data from the Illinois State Board of Elections and built Illinois Sunshine with the Illinois Campaign for Political Reform. We knew that scraping the data was not the best place to start.
The place to start, as you reporters out there already know, is to get on the phone. Thankfully, New Mexico In Depth already had a relationship with the Secretary of State's office, and we were all able to get on the phone and explain what we needed. They were very responsive and passed our requests on to their tech team to implement.
While we waited for those improvements (which are coming online soon), we filed a Freedom of Information Act (FOIA) request for a full export of their campaign finance system (read the official request) and used that to build our first version of the website.
Fun New Mexico campaign finance findings!
The Openness Project is an example of an "open access" project. Its primary goal is to inform the public by making it easier for more people to access and understand government data.
This in itself is a worthy goal, but only if people use it. In the case of campaign finance, the ideal users are reporters who have the time, expertise, and skill in researching and reporting what they find. It is through this reporting that the stories within the data are found and shared with the broader public.
It's for this reason that New Mexico In Depth is the ideal client and partner for this project. Since building the website, Sandra Fish, a data journalist for New Mexico In Depth, has already uncovered some important findings. Here are a few of them:
Democratic Attorney General Hector Balderas and Lt. Gov. John Sanchez have plenty of cash in the bank, topping the list of candidates. Neither is running for office in 2016, but might they be preparing for 2018 when Gov. Susana Martinez leaves office?

The general obligation bond ballot measure to pay for infrastructure at universities, libraries, aging facilities and more doesn't draw much attention. But the GO Bonds for Education committee is raising some big bucks, mostly from university and college foundations.

When it comes to PACs, the GOP juggernaut Advance New Mexico Now is clearly ahead of the pack (and by that we mean the rest of the PACs). But examining Patriot Majority New Mexico's trends over time, you'd expect to see a big report from them on Tuesday as they stock up to support Democratic candidates.
As civic technologists, we are excited to know that our tools serve as a resource for future reporting. That's why we do this work.
Stay tuned for updates to The Openness Project. There's more to come!
Until then, you can follow the money in New Mexico politics on OpennessProject.com and read in-depth coverage at nmindepth.com.
Interested in a campaign finance explorer for your state? Get in touch with DataMade!