We find your reps so you don't have to
Published on Jul 26, 2016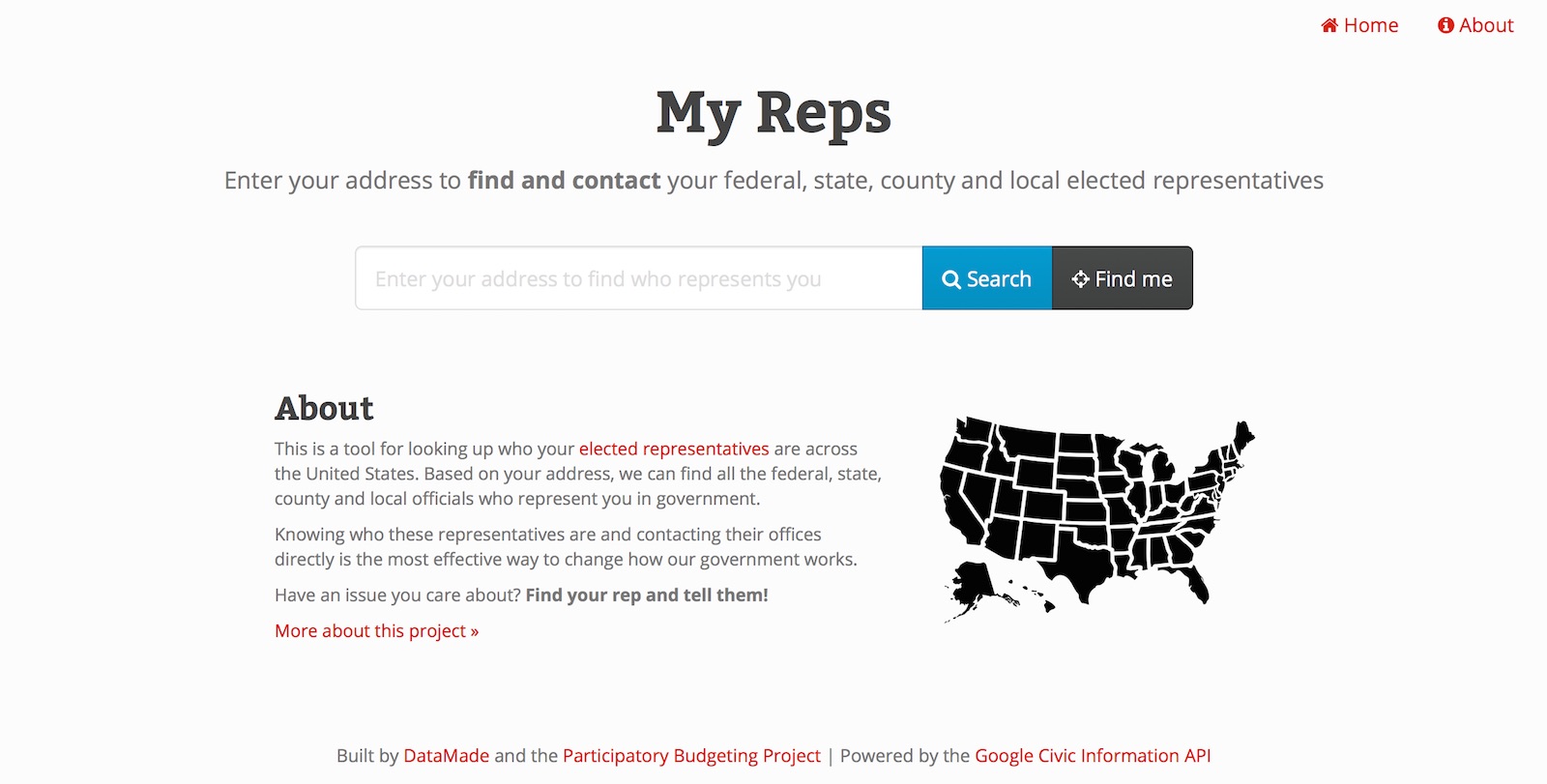 My Reps - Find and contact your federal, state, county and local elected representatives
Democracy doesn't happen every four years. Or even every two. It happens every day, and the citizens and groups who are aware of this and act on it have more influence over our country than those who don't.
In every city, town, and county road in America, you are represented by people voted into office. Some of these people you know: the president, your town's mayor, and perhaps the governor of your state.
But what about the rest? Do you know who your 2 Senators are? Or how about your member from the House of Representatives? Or your city council members? Your county government? The board of your Mosquito Abatement District? (Yes, this is a real thing.)
Chances are you don't know them all, or even the majority of them. But these people still represent you and make important decisions on your behalf.
Introducing My Reps
My Reps is a tool for looking up your elected representatives across the United States. Based on your address, we can find all the federal, state, county, and local officials who represent you in government.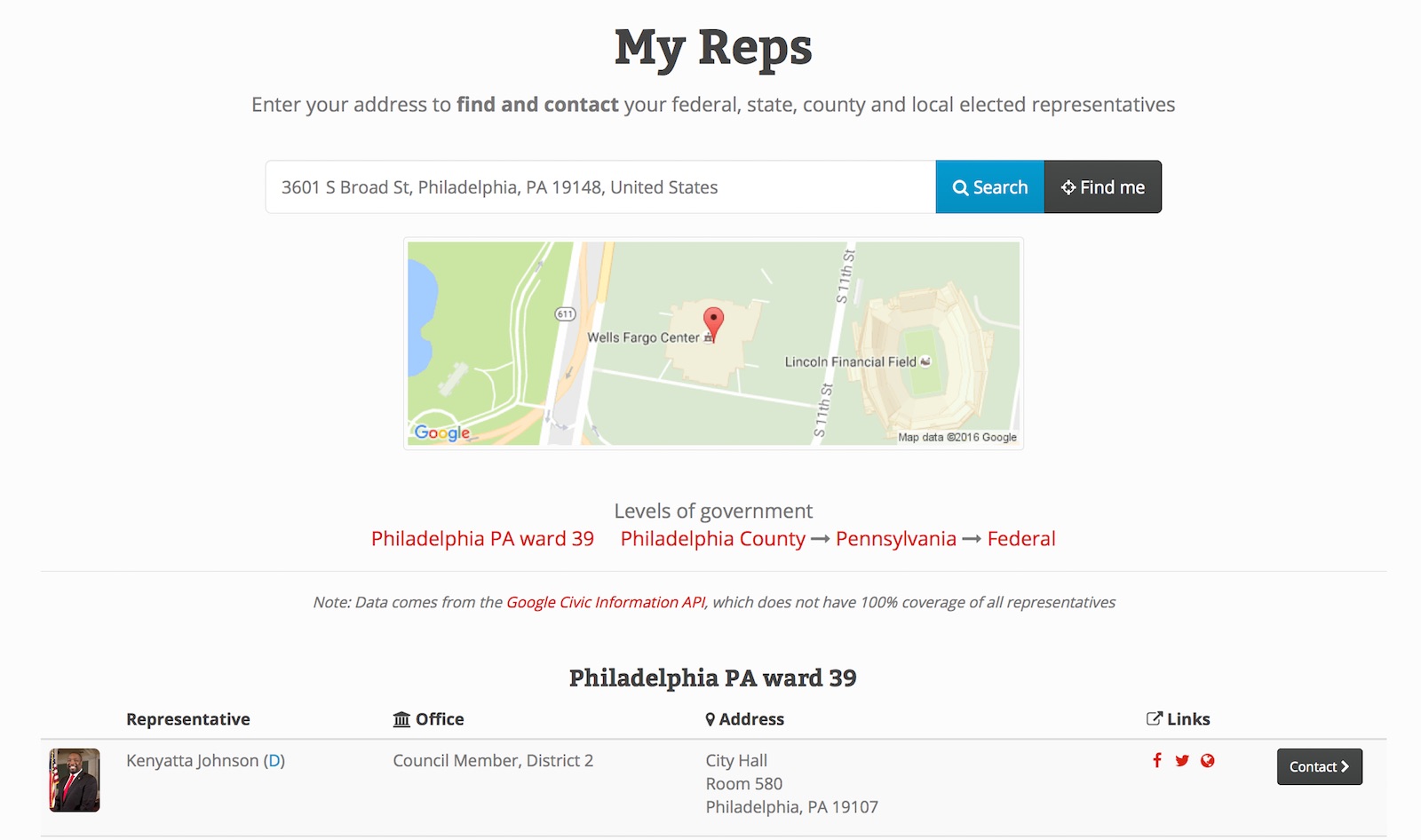 Searching for representatives in Philly's 39th ward
Powered by the Google Civic Information API, which collects and makes available data on elected representatives all over the country, we created a simple interface to quickly look up your representatives and present you with the means to contact them.
Why did we build this?
Like most software, representative lookup tools have been reinvented many times over the years.
Well-resourced advocacy groups like Common Cause, Human Rights Campaign, and the NRA have already built their own customized rep lookup tools in-house.
As sophisticated and effective political organizations, these groups know that empowering their members to advocate directly to their representatives is the most effective way to change government policy.
It was for this reason that the Participatory Budgeting Project (PBP) reached out to DataMade to build a representative lookup tool to help advocate for more participatory budgeting in local government.
We saw this as an opportunity to build an open source, highly accurate and easy to use representative lookup tool using the Google Civic Information API.
The result was PBP's My Reps, which in addition to allowing you to find your reps, provides messaging and resources for people to advocate for participatory budgeting. PBP is now using it to instruct their members to find and meet with their local elected officials, especially those who control budgets.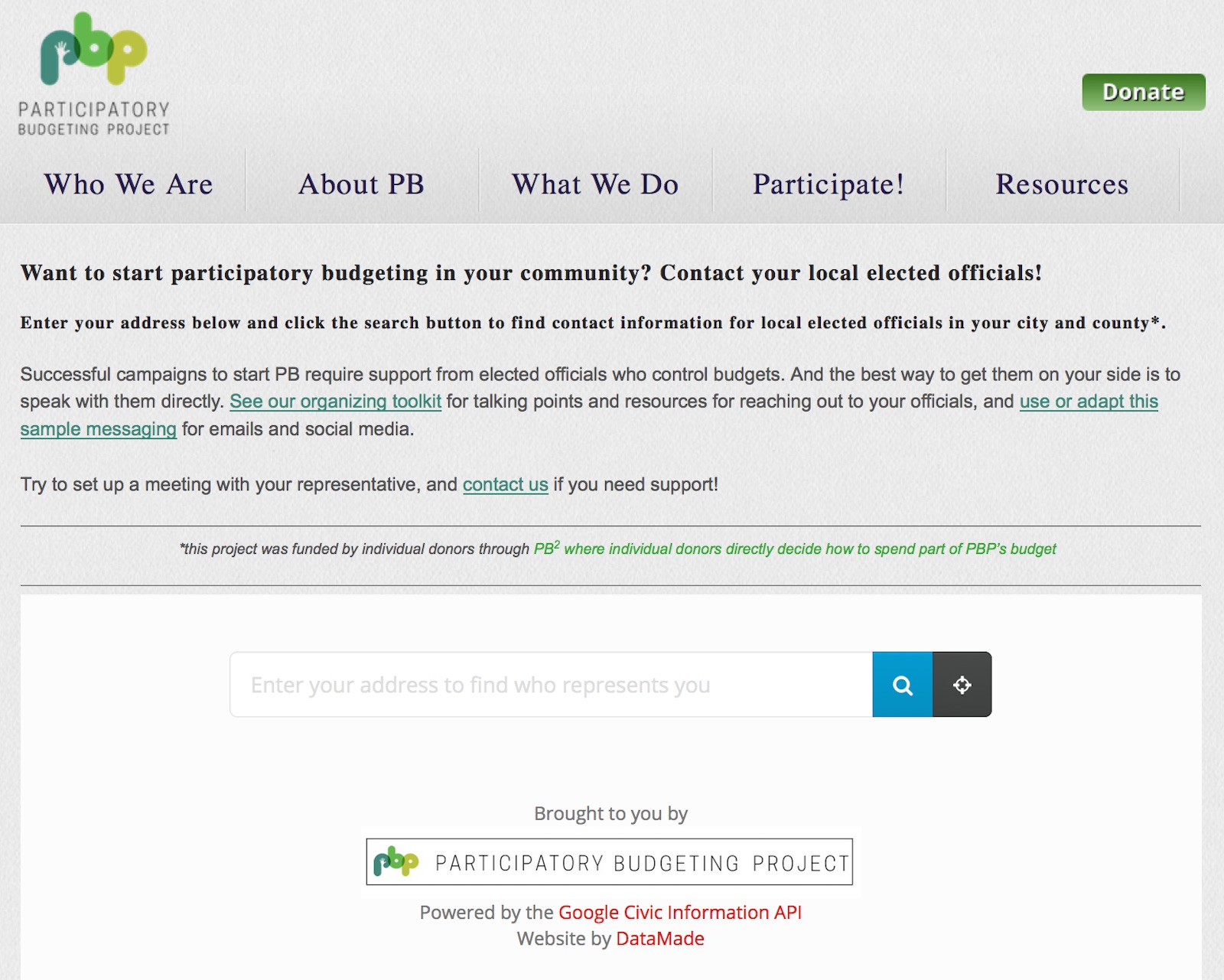 Participatory Budgeting Project's My Reps
Steal this code!
But we didn't stop there. After building this tool for PBP, we realized we had made something generally useful that other organizations and individuals could reuse.
So we built My Reps, a generic version of the same tool, to be completely open source, easy to repurpose, and easy to customize.
If you work at a political organization, or want to start a grassroots campaign about a particular issue, feel free to copy and reuse the My Reps codebase and customize the messaging and content for your issue.
Instructions on how to get started are in the GitHub repository, and DataMade is available to provide professional assistance if you need it (email us!).
Bootstrap your campaign
Effectively pushing for policy change is hard work. It takes time and money, not to mention a clear vision, effective communication, good technology and political insight.
With My Reps, we hope to lower the bar for more groups to use one important piece of technology and improve the overall effectiveness of their campaigns.
Now go forth and contact your reps!