Join the DataMade team! (Applications closed)
Published on Aug 15, 2022
Update (August 30): We stopped accepting applications on August 29, 2022. If you'd like to be notified the next time we're accepting applications, sign up for our jobs mailing list.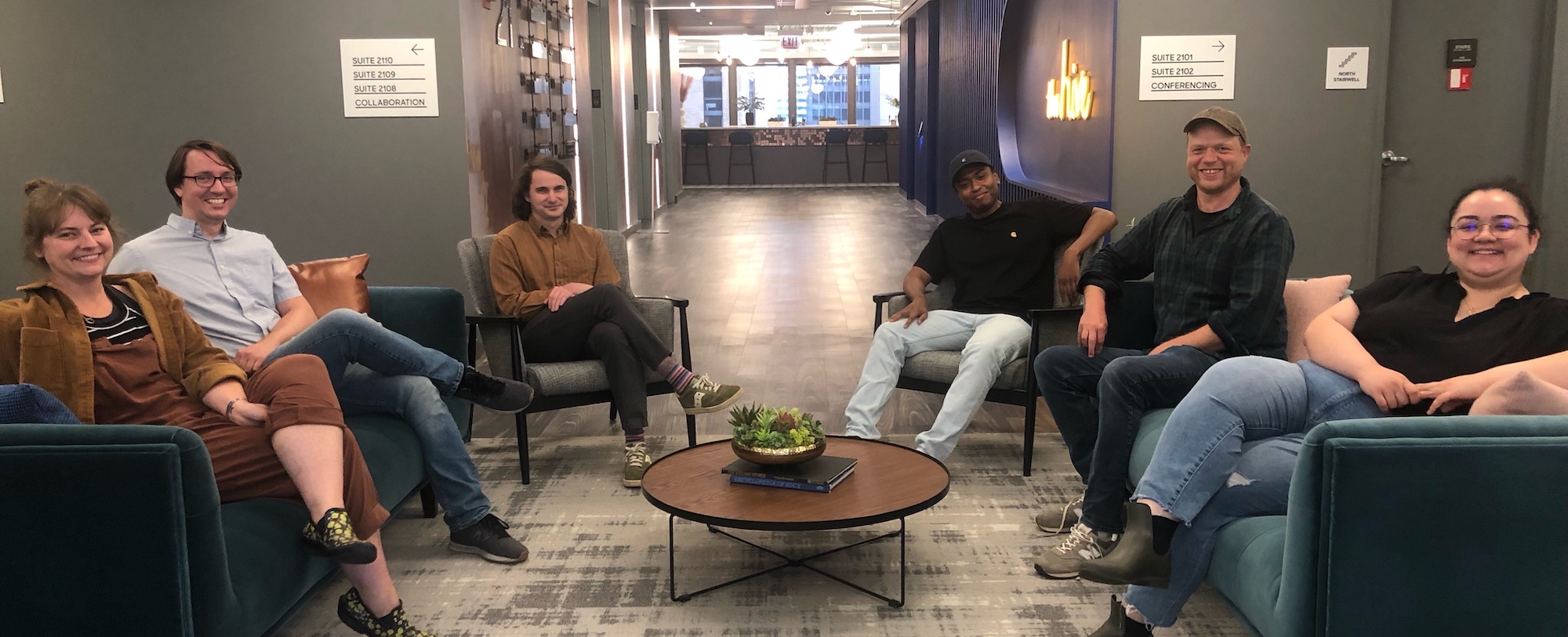 The DataMade team gathers in Chicago for their first company retreat in June 2022.
Do you want to build mission-driven technology? Do you want to engineer fresh ideas about civic tech? Do you want to extract meaningful insights from data?
DataMade is a data and web consultancy for civil society. We support our partners in working toward democracy, justice, and equity. We're looking for a full-time developer to start in September or October 2022. This position will be fully remote.
About DataMade
We're a small and nimble company with a wide variety of projects, from web apps and data tools to technical training and process improvement.
Take a look! Here are some examples of what we do:
Curious about the code? DataMade embraces the philosophy of open-source software. Check out our Github profile.
Our values
Working for democracy, justice, care and equity
A commitment to open data and open source development
Iterative project development with client engagement
A culture of collective learning and mentorship
Healthy work/life balance
About the job
DataMade is a small company where everyone is a programmer. As a Developer at DataMade, you'll get to work with a variety of clients and build across all parts of our stack. On any given day, you might:
The primary role of the Developer is to work on client projects under the management of a Lead Developer or Partner. For this position, we are looking to hire a Developer Level 1, which requires some experience with Python or JavaScript. This position does not require professional programming experience. If you're familiar with the concepts in our code challenge, we want to hear from you!
At DataMade, we have a pattern of trade apprenticeship. That means everyone is being trained to take on the role of their manager. It's a model that emphasizes learning, growth, and increasing scope of responsibilities. In your first year, you'll learn a lot about programming through increasingly difficult implementation tasks on client projects. Your primary manager and project managers will provide you support, while keeping you consistently challenged. As you grow your skills, your scope of responsibility will increase from implementing work as a Developer, to managing work as a Lead Developer, to helping decide what work the company should pursue as a Partner.
Time outside of working hours is your own. While you'll stay busy weekdays during your planned work hours, you will not be expected to be available evenings or weekends.
Requirements
Familiarity with at least one piece our core technical stack: Python, Django, or React
A commitment to professional and technical growth
A desire to support the learning of others
Interest in working collaboratively with small teams
An ability to work independently
Ability to manage priorities and deadlines, with the support of a manager
Resides in the Continental US and is able to work 7 hours between 8 a.m. and 6 p.m. Central Time
Nice to have
A curiosity about how complex technical and social systems work
Experience building things for the web
Experience in consulting, customer service, or another field focused on working directly with people
Experience working on open source projects
An eye for good design
We're interested in working with people from a wide range of backgrounds. We're excited to hear about your formal credentials, of course, but this role requires no prior professional programming or consulting experience. If you've worked a front desk, but you've never spoken to a government employee, we still want to hear from you.
Benefits
Fully remote team
35-hour work week
Fully subsidized health care plan, including coverage for spouse/partner and children
3 weeks of paid vacation
2 weeks of paid excused absences, applicable to illness, care of dependents (including pets), healthcare appointments, or other personal situations
Annual holiday break the week between Christmas and New Years
Up to 12 weeks of paid parental leave
Company provided Mac laptop
$2,000 annual budget for professional development, training, and conferences
$500 annual budget for office equipment
401k retirement plan with automatic 3% company investment
Starting salary: $73,500 / year
Is there a benefit that's important to you that we've missed? Let us know and we'd be glad to consider it.
How to apply
Members of populations that are underrepresented or marginalized in the tech, data or news industries are encouraged to apply! We strive to build a team with a diverse set of perspectives.
Interested? Fill out our online application. As part of your application, you must also complete our code challenge).
Questions about this job? Email us at info@datamade.us.
We will be accepting applications through August 29, 2022 (and possibly longer).
Our application review process
We expect the entire application review and interview process to last two to three weeks before making a final decision and offer, though application review may take longer because we implement our own version of the Rooney Rule to ensure our interview pipeline aligns with our commitment to diversity. Here are the steps that we follow:
At the end of the stated application period, DataMade will review the applicant pool. If we receive enough applications, we will close the application period. If not, we will notify applicants and extend it for an additional 2 weeks.
Once the application period closes, DataMade will take about a week to perform an initial review of the submissions. Applicants who aren't yet a good fit will be sent feedback on their application.
Selected applicants will be invited for an interview over video call. Interviews will last about an hour and a half, encompassing a conversational component and a technical component.
After one to two weeks of interviews with finalists, DataMade will make an offer to one candidate (maybe you!).
Learn more about the job and the company at office hours!
If you'd like to learn more, please sign up for office hours with a developer or partner.