DataMade's response to COVID-19
Published on Mar 19, 2020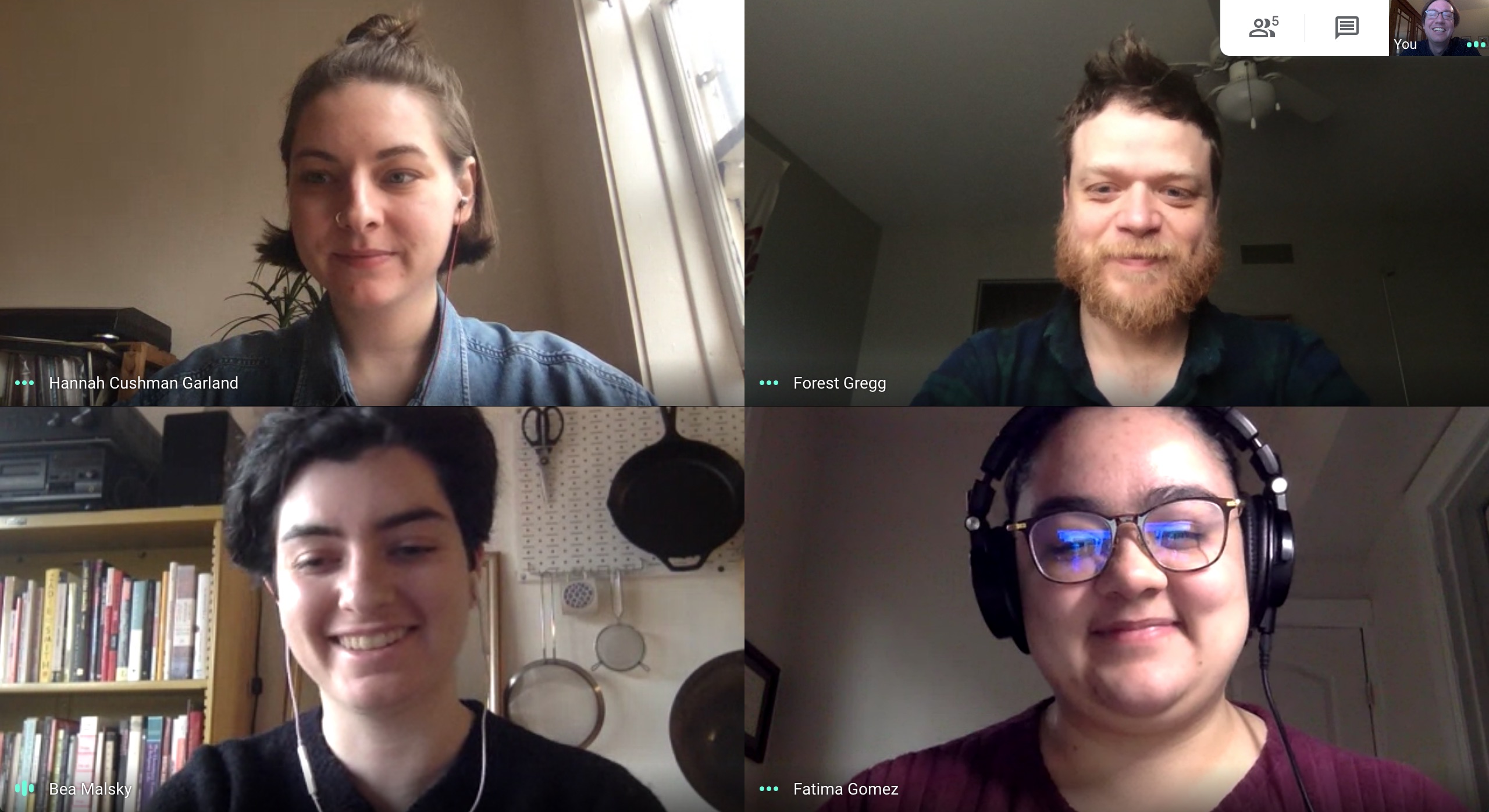 The DataMade at our morning check-in video conference
In response to the COVID-19 outbreak, the DataMade team is now 100% remote and practicing social distancing. We plan on maintaining this setup for the duration of the outbreak and will keep our office operating at full capacity.
For the past 6 months, DataMade has operated as a hybrid remote office, with some staff in the office and some staff remote, so this change was a minimal disruption to our team. Still, we are constantly learning and seeking new ways to nurture the positive office culture we have built over the past 8 years in this new remote world we now live in.
Transitioning to a remote office is a daunting task for some organizations, but we believe it is imperative that every office in the country take whatever measures they can to do it. This is a time that requires quick action and leadership, and the most important thing for us all to do is flatten the curve of the epidemic so that our health systems can cope and to give time for the scientists to research vaccines and treatments.
If your organization is struggling to make the transition to 100% remote, here's a few helpful resources to check out:
And for those who are already working remote, it is also important to reflect and acknowledge the unprecedented circumstances we find ourselves in, to forgive ourselves for being distracted and anxious, and to take the time we need to adjust.
Angelique Power, President of the Field Foundation, said it best:
And finally, for those of us sheltering in place, I hope that in this time of expansive pause, you DO NOT try to replicate our busy, meeting-filled lives—but find something new in the silence and shelter. No all- day virtual meetings. No four-hour video calls while trying to replicate a school day in your home. This moment is changing us.

And so, let us be changed.

May we find time in this pause to breathe. To feel the anxiety and find the solution for us that works this day.
Resources and actions to slow the spread of COVID-19
#FlattenTheCurve A one-stop place with practical knowledge and tips on COVID-19, and what each of us can do to slow the spread of the virus: Flattenthecurve.com
Updates from the City of Chicago For the most up-to-date information on the Coronavirus outbreak and prevention efforts in Chicago: https://www.chicago.gov/coronavirus
Donate to the elderly and those with disabilities My Block, My Hood, My City is gathering hand sanitizer, disinfectant wipes and Emergen-C to distribute to elderly or who have disabilities. Donate or make a Request here: https://www.formyblock.org/viralresponse
The Coronavirus Tech Handbook A great collection of tools, websites and data relating to the Coronavirus outbreak. If you're building a project, please submit it! https://coronavirustechhandbook.com
Find and Join a Mutual Aid Group A compiled list of over 100 Covid-19 Mutual Aid groups around the country.
Even more COVID-19 resources For more, Chi Hack Night is organizing these resources and more here.