Introducing the Chicago Data Collaborative
Published on Jan 23, 2018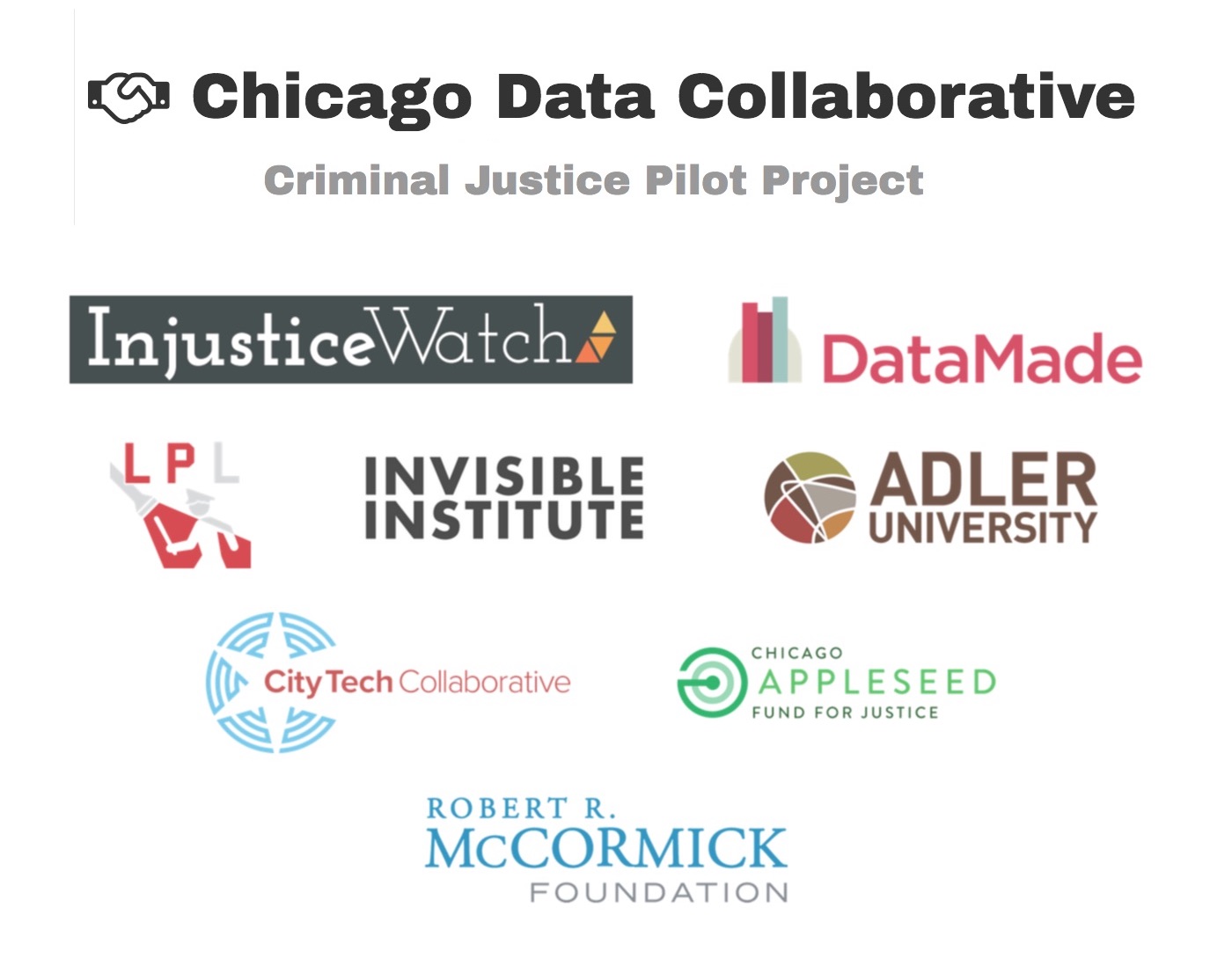 The inaugural members of the Chicago Data Collaborative.
Today, DataMade is thrilled to take part in the launch of the Chicago Data Collaborative, a cooperative effort by civil society organizations to share capacity with the goal of strengthening local criminal justice reporting and advocacy in Chicago and Cook County.
Every day in newsrooms, universities, and nonprofit offices around Chicago, researchers spend precious time and effort wrestling with data that someone else has already cleaned. Since the organizations that they work for don't have obvious reasons to cooperate, they wind up siloed, forced into redundant work that limits their view of the systems they seek to understand.
In the criminal justice space, the silos that isolate journalists, activists, and researchers are exacerbated by messy data sources spread out across a variety of antagonistic institutions. One journalist may be working with arrest data from the Chicago Police Department, while another is trying to understand the population of the Cook County Jail; if they were able to work together and pool their resources, not only would could they do better and faster work, they could write narratives that connect arrests and jail, and tell the story of the system as a whole.
For the past year, DataMade has been working with six other civil society organizations in an effort to build an institution that might help make this dream of cooperation come true. Out of that work, the Chicago Data Collaborative is born.
Why we care
DataMade has always believed that information about the functioning (and malfunctioning) of public institutions is a public good, and should belong to everyone. This aspiration to openness has been a key motivator behind our work on criminal justice, including Chicago's Million Dollar Blocks and Justice Divided.
But data does not move the world on its own. People must be able to understand it and interpret it, and people come to the table with a wide range of technical abilities. This is one reason why we work extensively with journalists, researchers, and advocacy groups: we believe these kinds of organizations have the expertise and the storytelling ability that is necessary to help make good use of public data.
And yet, technical ability varies widely inside civil society groups, too. To help journalists and researchers make effective use of data, we need to be sensitive to the many backgrounds they come from. That's why we offer our data deduplication service Dedupe as an open-source library for programmers, as well as a web application that anyone can use. Good data work requires a variety of strategies for a variety of abilities.
Compared to the probabilistic record linkage that powers Dedupe, mutual aid and cooperation might seem like old strategies. But right now, they're the ones that we're most excited to invest in.
Our data
So far, Collaborative members have pooled together data from the Chicago Police Department, the Illinois State Police, the Office of the State's Attorney, and the Cook County Jail. We've collected databases including:
Chicago Police Department investigatory stops from 2014 to 2016

Arrests in Chicago from 2014 to present

Snapshots of the Cook County Jail population from 2014 to 2016

State's Attorney case-level data

Lookup tables to link all of these sources together using Dedupe.io, DataMade's deduplication service
These data are shared freely among Collaborative members, subject to collective data sharing and governance agreements.
What's next for the Collaborative
Throughout 2018, DataMade will continue to work with the collaborative to acquire, clean, and document new data sources to shed light on the criminal justice system in Chicago and Cook County. We're actively pursuing the following data:
Daily snapshots of the Cook County Jail population

Merged Criminal History (State Police) and IDOC sentencing/release data
Collaborative members will also begin publishing news stories and reports based on our analysis of the data we've collected. Stay tuned!
Get in touch
The Data Collaborative is a new venture and is growing every day. If you have thoughts and opinions, or if you want to join us, get in touch.