Get the lead (and the word) out with City Bureau
Published on Jan 09, 2017
As our name suggests, DataMade is no stranger to making data – but we also make a fair amount of news. In December, we had the opportunity do both in partnership with Chicago-based journalism lab City Bureau.
This collaboration took us through the weeds of extracting data from unfriendly file formats, statistical analysis, and geographic wizardry, culminating in a special issue of South Side Weekly exploring how lead ends up in Chicago's water and the impact it has once it gets there.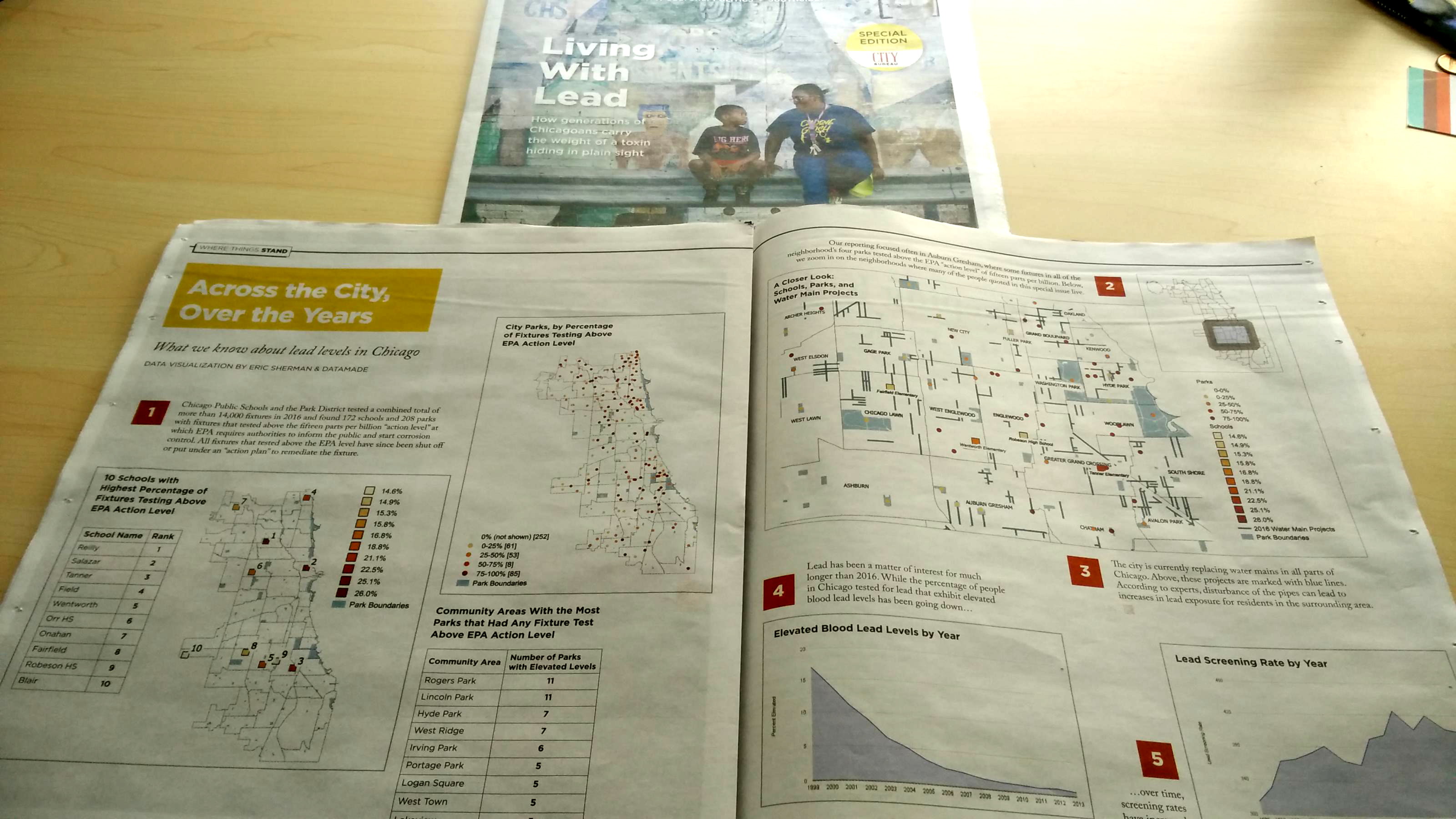 Map spread in special issue of South Side Weekly. Map graphics by Eric Sherman.
Today, we're pleased to release the data behind that special issue in the form of centralized, standardized, and searchable datasets for lead test results for Chicago parks and public schools; and work on Chicago's water mains from 2000 to present.
Follow our lead
Lead was found in excess of the EPA "action level" in nearly half of all tested parks, and in over 180 faucets and fountains across tested schools. But that's not all the data offers. Here are a few ways it has yet to be explored!
Share your findings with us; we ❤️ signal boosting!
Make it better
When the parks department and school district found fixtures with high lead levels, they shut them down and repaired them. In the spirit of improvement, we welcome your help in improving the datasets we have to offer. Tweet us, open an issue, or best of all, submit a pull request.
Read the issue!
Our data work was but a portion of the the hard work that went into producing "Living With Lead." The full issue combines text, illustration, photos, and maps to produce an impactful account of this city-wide issue. Read it as designed for print or check out the digital version.