We build custom visualizations, deploy civic apps, and train people to work with open data.
---
Turn your data into a fully customized, clear and concise map or visualization. Learn more »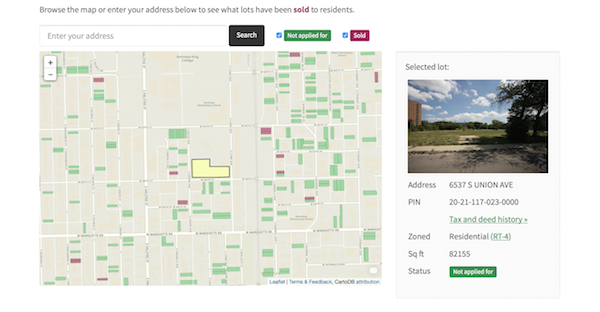 The City of Chicago is selling empty lots to South Side residents for $1. LargeLots.org helps residents find eligible lots and navigate the application process.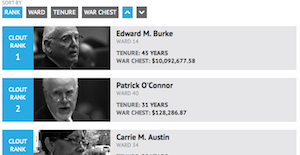 By gathering campaign war chest totals, tenure, committee chairs and Sun-Times political reporters' insight, we were able to create a model to rank the political influence for Chicago's 50 Aldermen.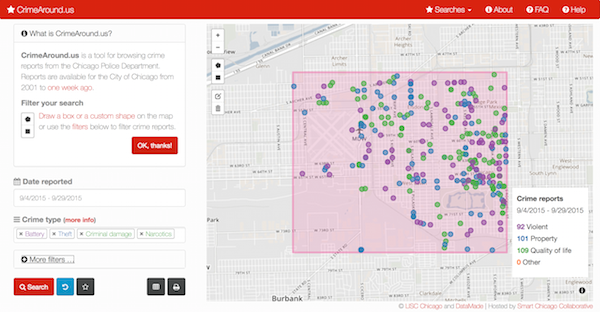 A tool for browsing crimes reported to the City of Chicago Police Department from 2001 to present by any custom geography.
---
Bring these civic, open source apps to your municipality or organization. We'll customize, deploy and host it for you. Learn more »
Visualize your budget on the web.
Quickly de-duplicate and link large sets of data.
Put your data on a searchable map.
---
Skill your staff up on the latest big data analysis and visualization tools.
An unprecedented amount of data is being gathered and published by governments, companies and organizations.
We will make on-site visits with your staff to train them up on powerful tools to help them understand, interpret and tell the stories behind all this open data. Learn more »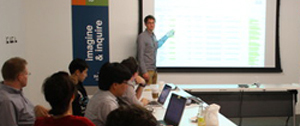 ---
Thoughts and innovations in open government and civic technology. Subscribe
The City of Chicago is selling empty lots to South Side residents for $1 until April 21st, 2014 as part of their neighborhood stabilization initiative.
To lower the barrier... read more »
Today, we are excited to announce a major update to the dedupe library! The new features include parallel processing support, improved record linkage across files, and a new asynchronous architecture.
...
read more »
---
Clients