We build custom visualizations, deploy civic apps, and train people to work with open data.
---
Turn your data into a fully customized, clear and concise map or visualization. Browse our work »
Add geographically-related data to any spreadsheet. All you need is a spreadsheet that includes a column about a location, like city, state or congressional district.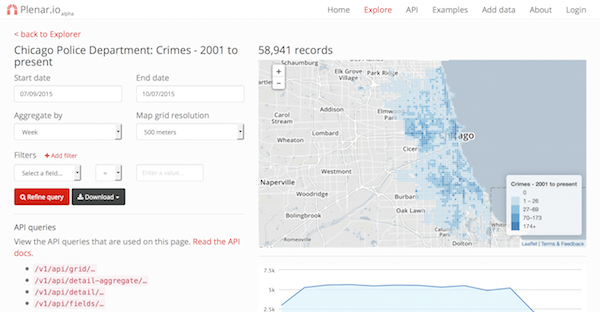 An open source platform, API and interface for exploring and filtering open data through space and time. Give us the where and when, and we'll give you the data.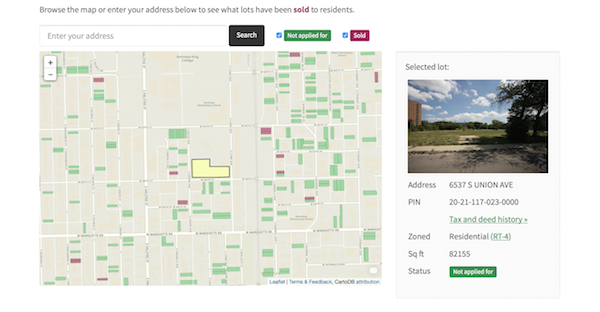 The City of Chicago is selling empty lots to South and West Side residents for $1. LargeLots.org helps residents find eligible lots and navigate the application process.
---
Bring these civic, open source apps to your municipality or organization. We'll customize, deploy and host it for you. Learn more »
Visualize your budget on the web.
Quickly de-duplicate and link large sets of data.
Put your data on a searchable map.
---
Skill your staff up on the latest big data analysis and visualization tools.
An unprecedented amount of data is being gathered and published by governments, companies and organizations.
We will make on-site visits with your staff to train them up on powerful tools to help them understand, interpret and tell the stories behind all this open data. Learn more »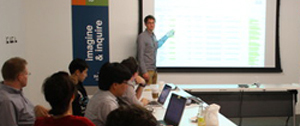 ---
Thoughts and innovations in open government and civic technology. Subscribe
Oct 10, 2014 by Cathy Deng, Jeff Ernsthausen (AJC)
Last week, the Atlanta Journal Constitution (AJC) announced the first public product from our collaboration - usaddress, a python library for parsing US addresses using advanced natural language processing (NLP) methods. Given an address, the parser will split it into separate components with labels like street number, street name, city, and zip. Read more »
Oct 02, 2014 by Derek Eder
The Code for America Summit, a yearly open government and civic tech conference, was held in San Francisco last week. In the conference's fourth year, a major theme was that the effectiveness of civic technology depends upon identifying the right problem, organizing the right constituents, marketing to the right audience, and embedding the technology in a larger campaign or strategy. These are exactly the kinds of projects that DataMade takes on. And we were fortunate to be able to share two of our client's stories to this international community of government leaders, funders, policy experts, and technologists. Read more »
Sep 11, 2014 by Forest Gregg
One of the wonderful things about civic technology is that no one really knows what it means. 'Civic technology' covers varying types of projects made by a variety of people trying to do very different things. This fuzziness is useful. It challenges civic technologists to think independently about what exactly they are trying to do, while providing a wide set of projects and models to steal from or define themselves against. All the same, we can begin to identify four major intentions of civic apps - to inform, to persuade, to provide access, or to change the way our democracy works. These correspond to four genres of apps - news, propaganda, access, and system plumbing. Read more »
Browse the blog archive (11 posts) »
---
Clients