Procurement and Civic Innovation
Published on Feb 21, 2014
Have you ever used a government website and had a not-so-awesome experience? In our slick 2014 world of Google, Twitter and Facebook, why does government tech feel like it's stuck in the 1990s?
The culprit: bad technology procurement.
Procurement is the procedure a government follows to buy something–letting suppliers know what they want, asking for proposals, restricting what kinds of proposal they will consider, limiting what kinds of firms they will do business with, and deciding if what they got what they paid for.
The City of Chicago buys technology about the same way that they buy health insurance, a bridge, or anything else in between. And that's the problem.
Chicago's government has a long history of corruption, nepotism and patronage. After each outrage, new rules are piled upon existing rules to prevent that crisis from happening again. Unfortunately, this accumulation of rules does not just protect against the bad guys, it also forms a huge barrier to entry for technology innovators.
So, the firms that end up building our city's digital public services tend to be good at picking their way through the barriers of the procurement process, not at building good technology. Instead of making government tech contracting fair and competitive, procurement has unfortunately had the opposite effect.
So where does this leave us? Despite Chicago's flourishing startup scene, and despite having one of the country's largest community of civic technologists, the Windy City's digital public services are still terribly designed and far too expensive to the taxpayer.
The Technology Gap
The best way to see the gap between Chicago's volunteer civic tech community and the technology that the City pays is to look at an entire class of civic apps that are essentially facelifts on existing government websites.
You can find out if your car was towed on the City of Chicago website: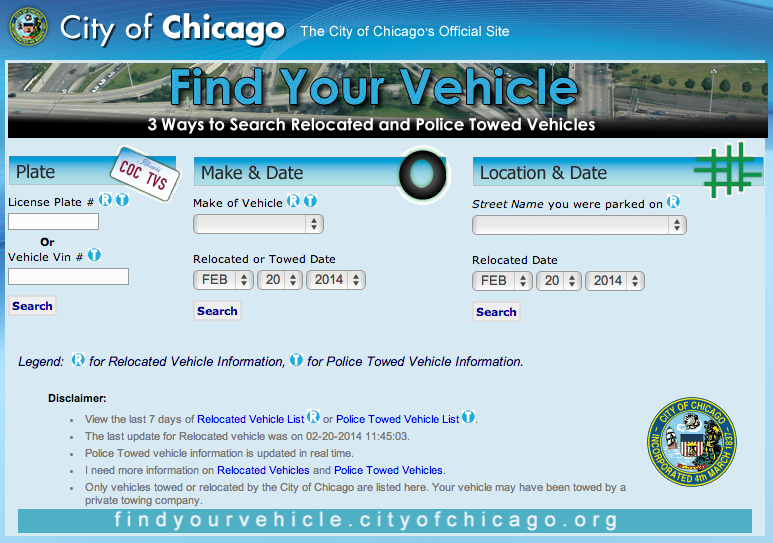 Find Your Vehicle on the City of Chicago website
or you can use Was My Car Towed by Scott Robbin, which is easier to use and works on your smartphone: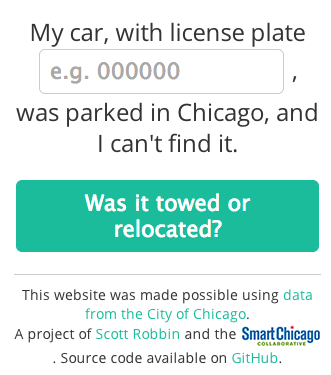 Was My Car Towed by Scott Robbin
You can find out how a building is zoned on the City's site, which takes three screens to access and features a map interface that was state of the art in 1995: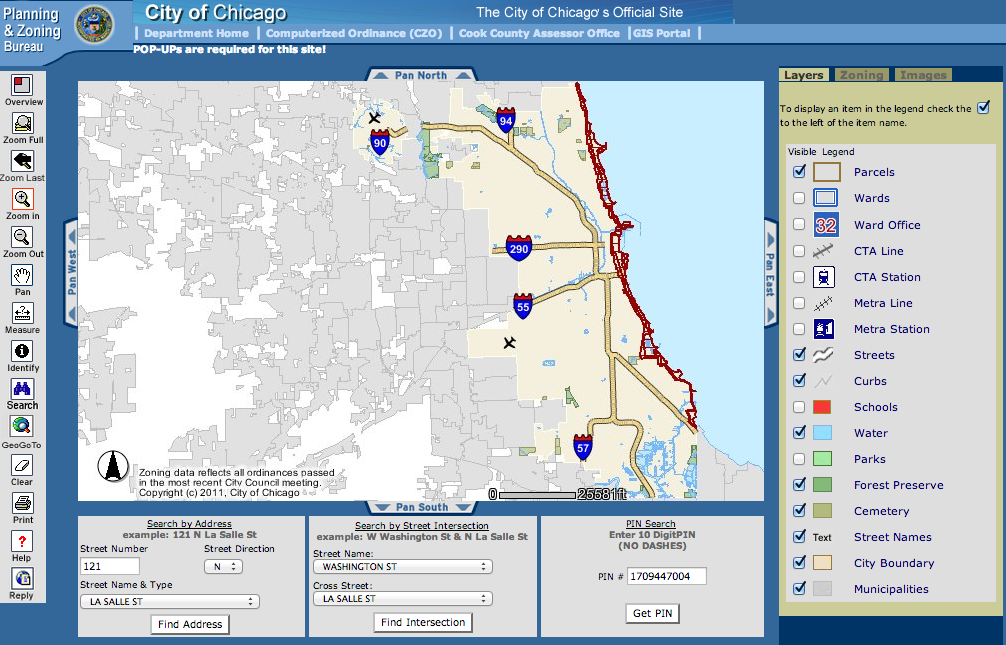 The City of Chicago Zoning Map
Or you can use 2nd City Zoning, built by myself and Juan-Pablo Velez at Open City, and look up any address in a single click - while reading human-friendly explanations of how zoning actually works.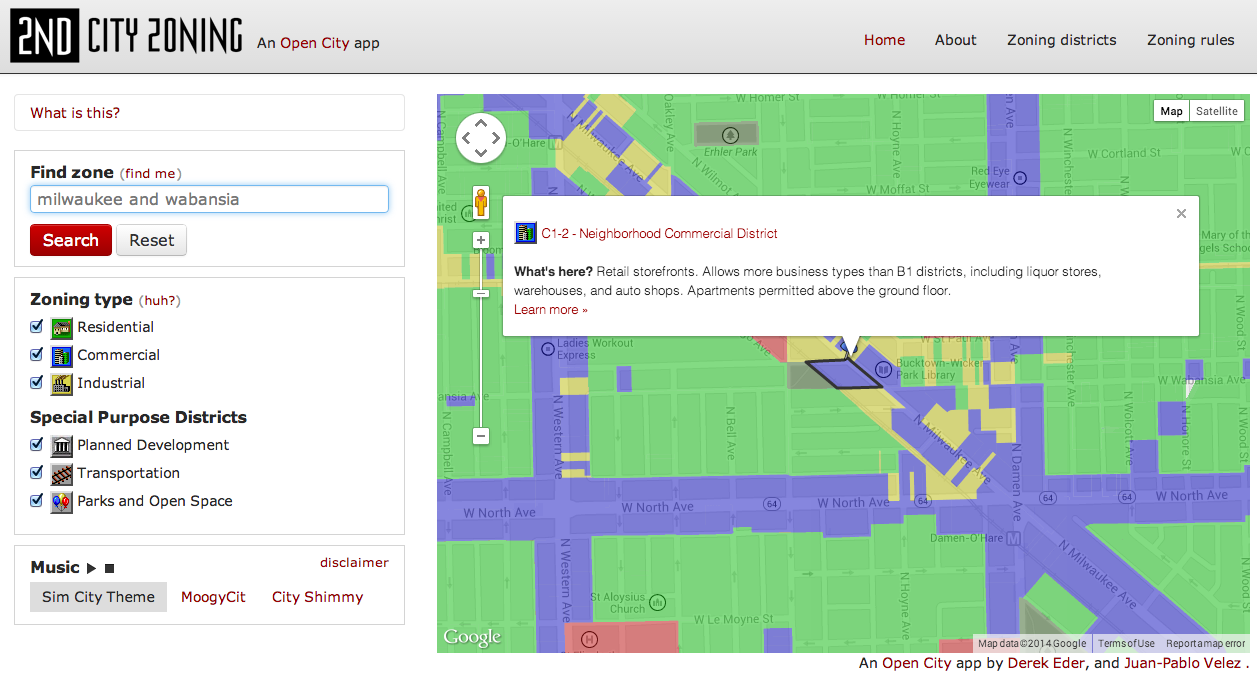 2nd City Zoning by Derek Eder and Juan-Pablo Velez at Open City
You can try to find out what crime is happening in your neighborhood – sorry, only crime in the last 2 weeks! – on the Chicago Police Department's ClearPath website: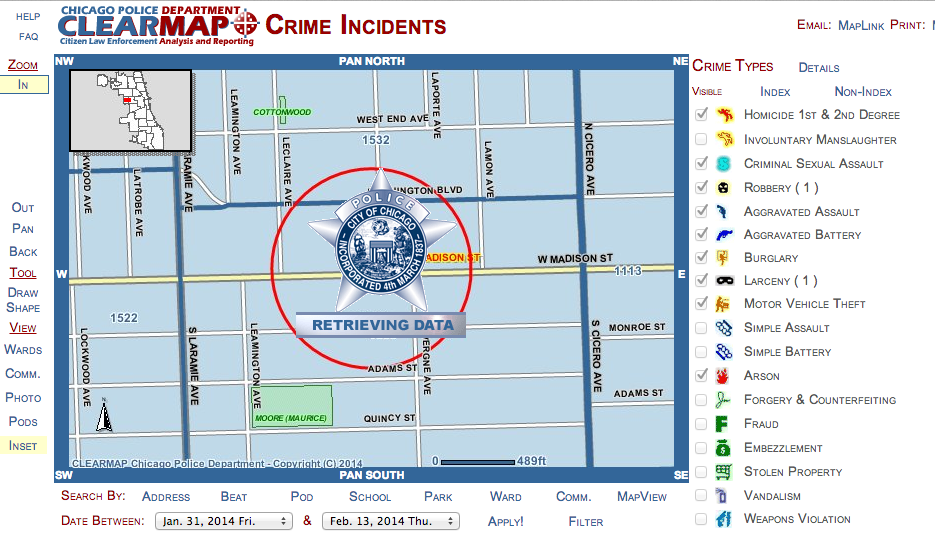 Chicago Police Department's ClearPath website
or you can use Eric van Zanten's CrimeAround.us app to search for crime in any area of the city since 2001: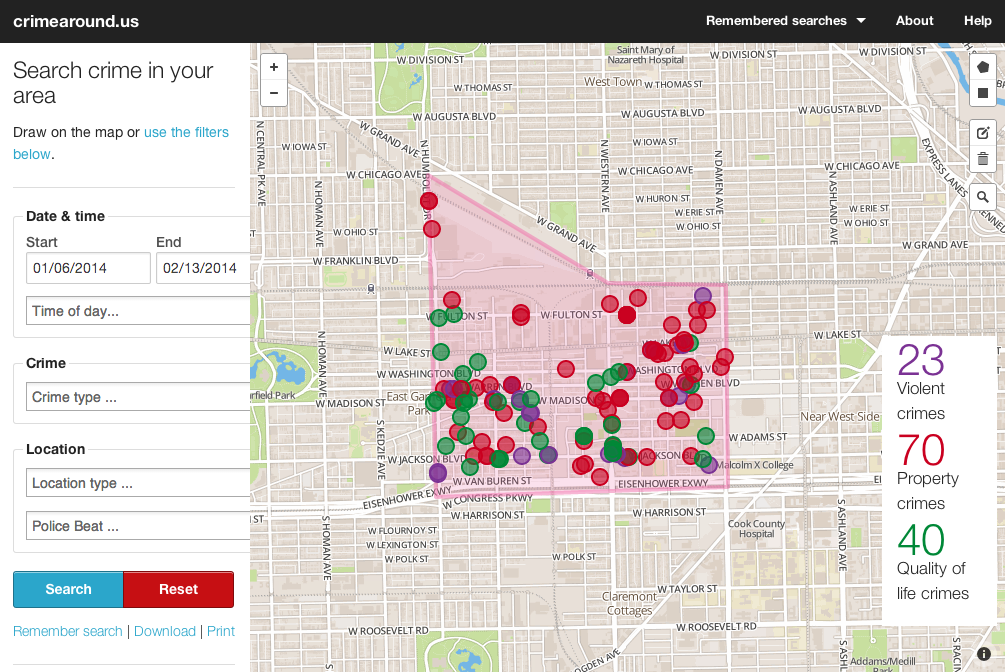 CrimeAround.us by Eric van Zanten (disclaimer: Eric works for us at DataMade and we are currently building up this app in partnership with LISC Chicago)
You may have noticed an increase in quality and usability between these three civic apps and their official government counterparts.
Now consider this: all of the government sites took months to build and cost hundreds of thousands of dollars. Was My Car Towed, 2nd City Zoning and CrimeAround.us were all built by one to two people in a matter of days, for no money.
Think about that for a second. Consider how much the City is overpaying for websites its citizens can barely use. And imagine how much better our digital city services would be if the City worked with the very same tech startups they're trying to nurture.
Why do these civic apps exist? Well, with the City of Chicago releasing hundreds of high quality datasets on their data portal over the past three years (for which they should be commended), a group of highly passionate and skilled technologists have started using their skills to develop these apps and many others.
It's mostly for fun, learning, and a sense of civic duty, but it demonstrates there's no shortage of highly skilled developers who are interested in using technology to make their city a better place to live in.
So what happens when civic-minded developers try to work directly for the City? Funny you should ask…
My first run-in with procurement
Two years ago, in the Fall of 2011, I learned about procurement in Chicago for the first time. An awesome group of developers, designers and I had just built ChicagoLobbyists.org - our very first civic app - for the City of Chicago's first open data hackathon.
It was a "Facebook for lobbyists in Chicago" based on open data released by the City on lobbyist activities: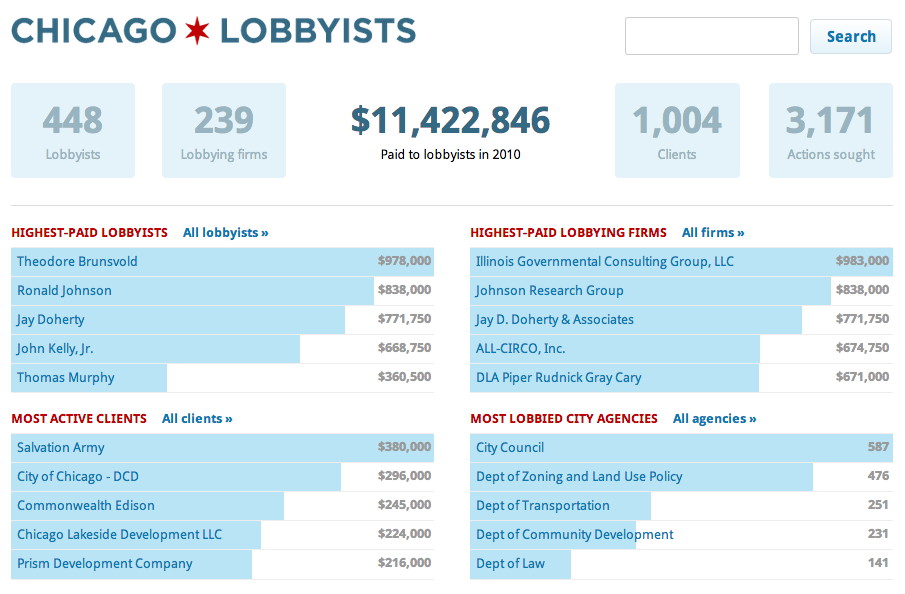 ChicagoLobbyists.org
Since then, the City has often cited ChicagoLobbyists.org as evidence of the innovation-sparking potential of open data.
Shortly after our site launched, a Request For Proposals, or RFP, was issued by the City for an 'Online Lobbyist Disclosure System.'
Hey! We just built one of those! Sure, we would need to make some updates to it—adding a way for lobbyists to log in and submit their info—but we had a solid start. So, our scrappy group of tech volunteers decided to respond to the RFP.
After reading all 152 pages of the document, we realized we had no chance of getting the bid. It was impossible for the ChicagoLobbyists.org group to meet the legal requirements (as it would have been for any small software shop):
audited financial statements for the past 3 years
an economic disclosure statement (EDS) and affidavit
proof of $500k workers compensation and employers liability
proof of $2 million in professional liability insurance
Procurement at work
The City ended up awarding the contract to Crowe Horwath LLP, an audit, tax, advisory, risk, and performance services firm—everything but a web shop, really. This is the same vendor that built the City's official city website under Mayor Richard M. Daley.
And what did the city get for its money? A form for lobbyists to submit their activity reports, a button that links back to the city's open data portal, and the official version of ChicagoLobbyists.org: a search form with two fields.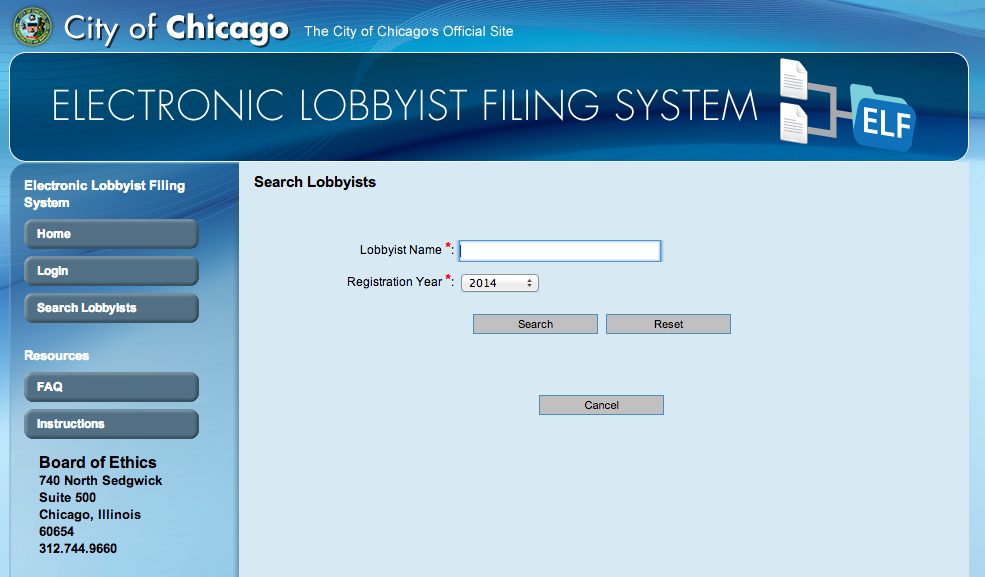 Chicago's Electronic Lobbyist Filing (ELF) System
Yep—you have to know what lobbyist you want to look up before you can see what they've been up to.
Never mind the irony that we had built ChicagoLobbyists.org for the City of Chicago's own hackathon event. Never mind that our code was open source, so the vendor could simply have taken it and built on it – with our blessing. But to top it off, the delivered product was tragically unusable.
The price tag: $272,600
This is the system as it currently exists. The City can only buy things through the procurement process, and Crowe Horwath LLP's was likely the best bid they got. And folks at the city were very responsive when we wrote a post-mortem blog post outlining our concerns. But that doesn't change the fact that this was a dead end for us.
Where do we go from here?
I've since started my own open data consultancy, DataMade. We've never competed to work on a City of Chicago project, and never plan to while this procurement system exists in its current state. We simply can't commit the hundreds of hours required to respond to those hundred-page RFPs—how many small businesses could?
From publishing open data to using predictive analytics to run city services, Chicago has one of the most progressive and forward-looking technology agendas in the country.
But it won't achieve its goal of making city government efficient, effective, and open through technology until it allows itself to work with the tech sector – the very same tech sector they're working to grow in our backyard.